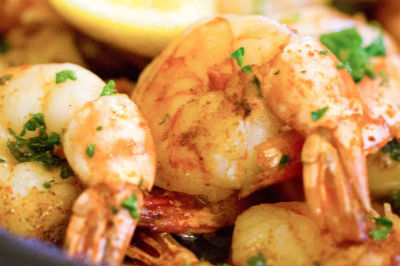 Ingredients:
Shrimps – 350 gms, peeled, deveined
Oil – 1 1/2 tblsp
Garlic – 2 cloves, minced
Red Chillies – 1, deseeded, minced
Oyster Sauce – 1/2 tblsp
Coriander Leaves – handful, chopped
For the marinade:
Garlic – 1 tsp, mince
Fish Sauce – 1/2 tblsp
Salt as per taste
Method:
1. Mix all the marinade ingredients in a bowl and keep aside for 1 minute.
2. Add the shrimps and mix well until each shrimp is well coated with the marinade.
3. Keep aside for 30 minutes.
4. Heat 1 tsp oil in a large pan over high flame.
5. Stir-fry the shrimps for 2 to 3 minutes.
6. Remove and transfer to a serving plate.
7. Add the remaining oil to the pan.
8. Reduce flame to medium.
9. Add the garlic and red chillies.
10. Stir-fry for a minute and add oyster sauce.
11. Spoon this mixture over the shrimp.
12. Garnish with coriander leaves.
13. Serve hot with rice.