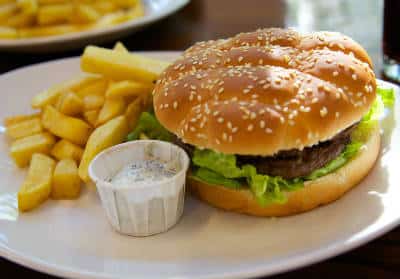 Ingredients:
Minced Lamb – 250 gms
Tomato Sauce – 2 tblsp
Burger Buns – 2 to 3, halved, toasted
Red Capsicum – 1, sliced
Mint Leaves – handful, chopped
Garam Masala Powder – 2 tsp
Olive Oil – 1 tblsp
Egg – 1, small, beaten
To Serve:
Tomato Slices
Onion Slices
Cucumber Slices
Cheese Slices (optional)
Method:
1. Heat 2 tsp oil in a pan over medium flame.
2. Saute the capsicum slices until tender.
3. Add the lamb mince, tomato sauce, garam masala powder and egg.
4. Cook for a minute and transfer to a bowl.
5. Mix well and shape the mixture into burger patties.
6. Heat the remaining oil in a nonstick pan over medium flame.
7. Fry the prepared patties for 3 to 4 minutes on each side until browned and cooked through.
8. Remove from flame and keep warm.
9. Spread mint leaves, cucumber slice, tomato slice and onion slice on one half of the burger bun.
10. Place the cooked patty on top and a cheese slice on top. Cover with the other half.
11. Serve at once with fries and dipping sauce.