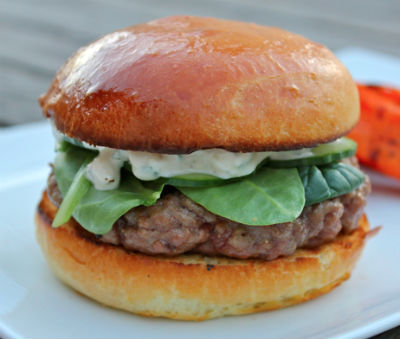 Ingredients:
Plain Yogurt – 1 cup
Feta Cheese – 1/4 cup, crumbled
White Onion – 1/4 cup, chopped
Cucumber – 1/4, peeled, seeded, diced
Garlic – 2 tsp, minced
Lemon Juice – 1 tsp
Salt as per taste
Black Pepper Powder as per taste
For the burgers:
Lamb Mince – 225 gms (ground)
Bread Crumbs – 3 to 4 tsp
Onion – 1/4 cup, chopped
Parsley – 1 tblsp, chopped
Garlic – 2 tsp, minced
Salt – 1/4 tsp
Dried Oregano – 1/2 tsp
Black Pepper Powder – 1/2 tsp
Burger Buns – 2, toasted
Lettuce Leaves – handful, chopped
Method:
1. To make the sauce, mix all the ingredients in a bowl.
2. Sprinkle salt and pepper powder.
3. Keep the bowl in the fridge until required.
4. To make the burger patties, mix lamb mince, bread crumbs, onion, parsley, garlic and oregano in a bowl.
5. Mix well.
6. Add salt and pepper powder.
7. Shape the mixture into two 1/2 to 3/4 inch patties.
8. Heat a pan over medium flame.
9. Cook the patties for 4 minutes on each side, until it is no longer pink.
10. Place the patties on one half of the burger bun.
11. Place some lettuce and a generous portion of the yogurt sauce on top.
12. Cover with the other half and serve at once.
Tip: You can also add sliced cucumbers, onions and tomatoes.
Note: image is for illustration purposes only and not that of the actual recipe.