A popular recipe from Kerala and must during Onam Sadya, Erissery is made with one or more vegetables. This recipe uses Green Banana and Elephant Yam.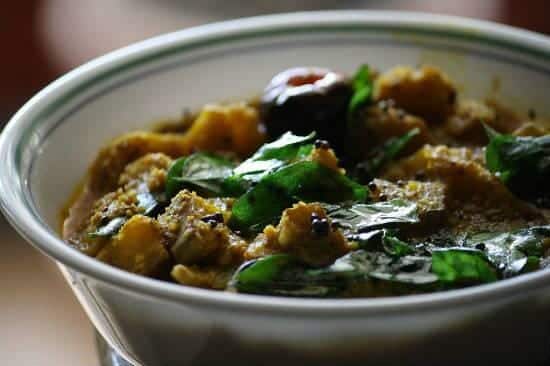 Ingredients:
Vazhakkai (Green Banana) – 2
Senai Kizhangu (Elephant Yam) – 1/2
Coconut – 2 cups, grated + little extra
Pepper Powder – 1/4 tsp
Red Chillies – 1 to 2, depending on size
Coconut Oil – 3 tsp
Turmeric Powder – a pinch
Salt as per taste
Curry Leaves – few
Mustard Seeds – little
Urad Dal – little
Method:
1. Peel and finely chop the green bananas and elephant yam.
2. Heat 1/2 cup of water over medium flame. Adjust as required.
3. Add the chopped bananas and yam along with turmeric powder, salt and pepper powder.
4. Bring to a boil.
5. When the vegetables are tender add the coconut and mix well.
6. Heat oil in a small frying pan.
7. Fry the urad dal, curry leaves and mustard seeds for 30 seconds.
8. Add a litle grated coconut and to the pan.
9. Mix well and remove when the water has almost evaporated.
10. Serve hot.