A popular North Indian street food where crispy puris are stuffed with a potato mixture topped with sev, coriander, mint and tamarind chutney and yogurt.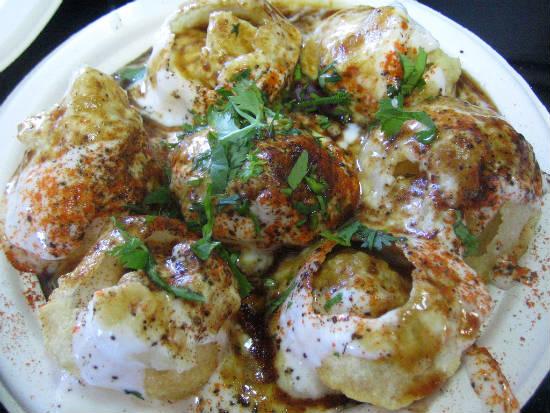 Ingredients:
Plain Yogurt – 3 cups
Potatoes – 3 to 4, boiled, peeled, chopped
Sprouted Mung Beans – 1 cup
Red Chilli Powder – 2 tsp
Chaat Masala Powder – 1 tsp
Crisp Puris – 40 to 50 (available readymade in major stores)
Coriander Mint Chutney – 1/2 cup
Tamarind Dates Sweet Chutney – 1 cup
Plain Sev – 1/2 cup
Cumin Powder – 2 tsp
Coriander Leaves – 3 to 4 tblsp, chopped
Pomegranate Seeds – 3 to 4 tblsp (optional)
Salt – 1 tsp
Sugar – 2 tblsp
Method:
1. Mix the yogurt, 1/2 tsp salt and sugar in a bowl.
2. Whisk well until smooth.
3. Keep aside.
4. Heat 4 cups of water in a pan and bring to a boil.
5. When it starts to boil, add the mung beans and reduce flame to medium.
6. Simmer for 2 minutes and drain well.
7. Refresh under cold running water and drain thoroughly.
8. Transfer to a large bowl.
9. Add potatoes, salt, 1 tsp red chilli powder and chaat masala.
10. Mix well.
11. Make small hole on the puris and add some of the potato mixture.
12. Place them on a plate and pour 2 to 3 tblsp of the yogurt on top.
13. Drizzle the coriander mint chutney and tamarind dates sweet chutney on top.
14. Sprinkle sev and remaining red chilli powder on top.
15. Garnish with cumin seeds, coriander leaves and pomegranate seeds.
16. Drizzle some yogurt on top.
17. Serve at once.