Olan is a popular and delicious side dish made for Onam Sadhya with pumpkin and coconut milk.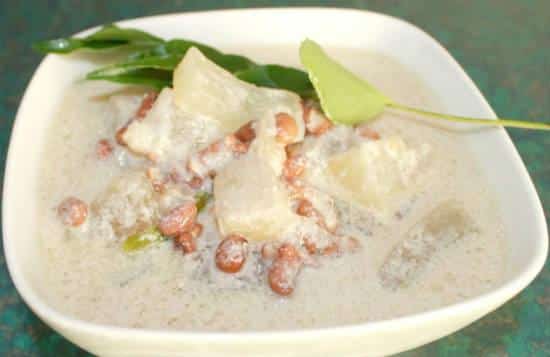 Ingredients:
White Pumpkin – 100 gms
Yellow Pumpkin – 100 gms
Red Gram (Pigeon Peas) – 1/4 cup
Coconut – 1 cup, grated
Green Chillies – 4
Coconut Oil – 3 tsp
Salt as per taste
Curry Leaves – few
Method:
1. Peel and chop the pumpkins into small pieces.
2. Squeeze the grated coconut and extract 1 1/4 cup of coconut milk without adding water.
3. Heat a pan of water over medium flame.
4. Add the pumpkin pieces, pigeon peas and simmer for a few minutes.
5. Add salt and green chillies.
6. When it starts to bubble lightly, add 1 cup of coconut milk.
7. When it starts to thicken, add the remaining coconut milk and stir well.
8. Switch off the flame and stir gently until evenly mixed.
9. Add coconut oil and curry leaves.
10. Mix well.
11. Serve.
image via youtube video