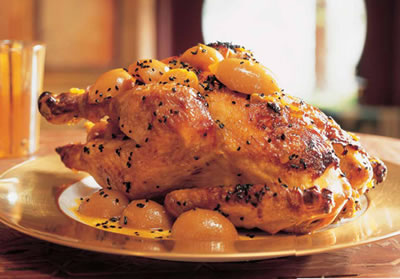 Ingredients:
Chicken – 1, cleaned, dried
Kalonji – 1 tsp, crushed + 1 tsp, whole
Olive Oil – 1/4 cup
Onions – 2, peeled, finely sliced
Ginger – 1/4 tsp, ground
Water – 2 cups
Saffron Threads – few
Coriander Leaves – 1 bunch, chopped
Preserved Lemon – 1, quartered
Salt as per taste
Black Pepper Powder – as per taste
Method:
1. Rub the chicken with crushed kalonji and keep aside.
2. Heat oil in a large pan.
3. Add the onions, ginger, salt and pepper powder.
4. Saute the onions for a minute and add the chicken.
5. Cook the chicken till it is evenly browned, for about 5 to 6 minutes.
6. Now pour the water and add saffron threads.
7. Bring the pan to a boil.
8. Add the coriander leaves, remaining kalonji and lemon quarters.
9. Cover the pan with a lid and reduce flame to low.
10. Allow it to simmer for about 35 to 45 minutes.
11. Remove and place the chicken on a serving dish.
12. Pour the sauce from the pan over it and serve hot.