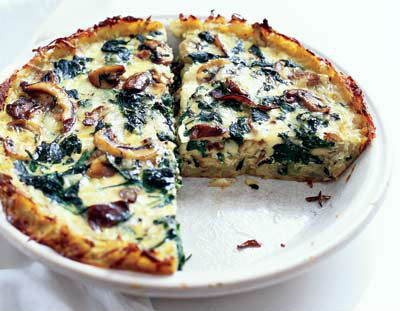 Ingredients:
Spinach – 200 gms, finely chopped
Mushrooms – 1/4 cup, sliced
Swiss Cheese – 1/2 cup, shredded
Eggs – 2, small
Milk – 1/2 cup
Salt – 1/4 tsp
Paprika as per taste
Dijon Mustard Paste – 1/4 tsp
Butter – 1 tsp, melted
Onions – 1/4 cup, finely chopped
For the Pie Shell:
Maida – 1 1/4 cups
Butter – 1/2 cup, unsalted, cubed
Salt – 1/2 tsp
Sugar – 1/2 tsp
Cold Water – 4 to 5 tblsp
Method:
1. Mix the maida, salt and sugar in a bowl.
2. Knead well.
3. Add butter and slowly add cold water.
4. Knead well till dough is thick.
5. Transfer to a floured surface and knead gently.
6. Roll the dough into a small-medium circle.
7. Place it on top of a pie plate and gently press so that it lines firmly on the sides and bottom.
8. Trim the edges and bake in a preheated oven at 180C till golden brown.
9. Remove and cool.
10. Spread the mustard in bottom of the pie shell.
11. Heat butter in a small pan.
12. Add onions, mushrooms and spinach.
13. Saute well for 2 to 3 minutes.
14. Remove and spoon this into the pie.
15. Beat eggs, milk and salt in a bowl.
16. Sprinkle cheese over the spinach mixture and pour the beaten eggs on top.
17. Add a dash of paprika and bake in a preheated oven at 400F/180C for 35 to 45 minutes or until the center is set.
18. Remove and cook.
19. Cut into slices and serve.
image credit: marilynmoll.com