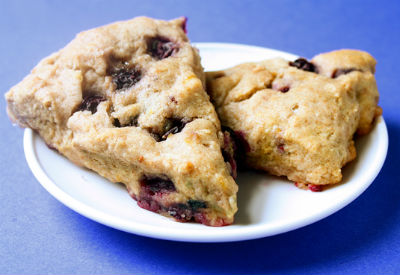 Ingredients:
Blueberries – 3/4 cup, rinsed
Lemon Zest – 1/2 tsp, grated
Heavy Cream – 2 1/4 tblsp
Egg – 1, large, lightly beaten
Maida – 1 cup
Sugar – 1 1/2 tblsp
Baking Powder – 1/2 tblsp
Butter – 3 tblsp, unsalted, cubed
Salt as per taste
Sugar for sprinkling
Cream for brushing

Method:
1. Sift together the maida, sugar, baking powder and salt in a large bowl.
2. Add butter, blueberries and lemon zest.
3. In another bowl, mix cream and egg.
4. Whisk well and pour into the bluerries bowl.
5. Mix until the well combined.
6. Transfer to a lightly floured surface and knead well for 2 to 3 minutes.
7. Place the dough into a 6 inch cake tin and cut into 4 equal squares.
8. Cut each square into even sized triangles.
9. Place these triangles onto a baking sheet lined with parchment paper.
10. Brush the top with little cream and sprinkle some sugar on top.
11. Bake for 20 minutes in a preheated oven at 400F until golden brown.
12. Remove and cool.
13. Serve.