No Indian meal is completed without a tangy pickle. Because of its distinctive and rich taste, Indian pickles are sought after side dishes. The specialty of these Indian condiments is that these suit every palate, be it hot, sour, salty or sweet. Although most Indian condiments tend to be soaring, you can find sweet varieties as well.
Pickles in United States are vinegar based whereas Indian pickles are usually prepared with mustard oil or sesame oil. Other ingredients like turmeric, salt, fenugreek provide more shelf life for Indian pickles even without refrigeration. Most of the Indian families make pickles or occur during the summer for the coming months. Many families possess secret recipes passed on from generations.
Here is a list of top ten Indian pickles that surely delight your taste buds.
In spite of using same main ingredients, Indian pickles differ in taste from states to state due to difference in preparation methods. South Indian mango pickle tastes very different from North Indian mango pickle mainly because, in south India sesame oil is used while mustard oil is preferred in northern states.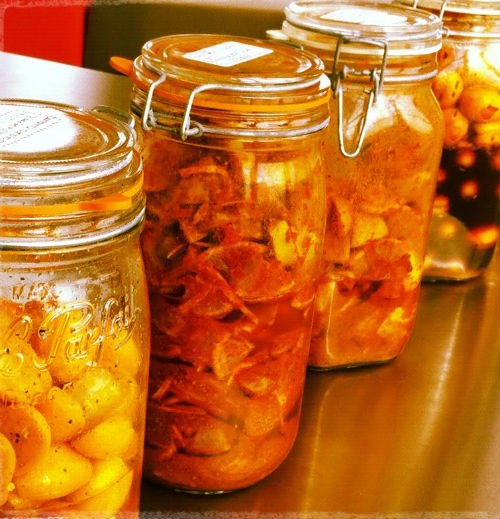 Preparing pickle at home is not a big task. It can be prepared easily with proper ingredients and can be preserved for months. Homemade pickles are best and can be tailored to your personal taste. Try these pickles that enhance the taste of your meals.
image credit: hungrytigress.com