No Indian meal is completed without a tangy pickle. Because of its distinctive and rich taste, Indian pickles are sought after side dishes. The specialty of these Indian condiments is that these suit every palate, be it hot, sour, salty or sweet. Although most Indian condiments tend to be soaring, you can find sweet varieties as well.
Pickles in United States are vinegar based whereas Indian pickles are usually prepared with mustard oil or sesame oil. Other ingredients like turmeric, salt, fenugreek provide more shelf life for Indian pickles even without refrigeration. Most of the Indian families make pickles or occur during the summer for the coming months. Many families possess secret recipes passed on from generations.
Here is a list of top ten Indian pickles that surely delight your taste buds.
Avakkai: Summer is out and this is the time for making mango pickles. Andhra Avakkai is popular for its fire. The cutting of mangos for this pickle is different as each piece should have the hard portion of the seed attached to it. There are special knife available for this purpose. However, nowadays, we can get cut mangoes or you can ask the seller to do that.
Vadu Mangai: Baby tender mango, popularly known as Maavadu is very popular in Tamil Nadu. This is a seasonal product and can be available only in March-April. Unlike other pickles, mavadu is a little watery. The tender mangos soaked in specially prepared spices taste well. Curd rice and mavadu is a great combination.
Amla Pickle: Amla murabba is not just a pickle; it is very effective for stomach and digestive disorders. It is prepared from Indian gooseberry. Amla is rich in Vitamin C, Zinc and copper. Regular consumption of amla helps to eliminate acidity and gas troubles. Neernellikkai and amla pickles are tasty and provide health benefits too.
Lemon pickle: Unlike mango pickles, lemon pickles are all time favorites as it is common throughout the subcontinent and available in all seasons Though it is common, it has countless variations depending on the spices you add to the mixture. The combination of lemon pickle and curd rice is the comfort food on a hot summer day.
Mixed vegetable Pickle: Mixed vegetable is one of the popular North Indian achars that are less spicy. It has more tangy and special flavor because of the use of mustard oil. Besides, it retains the crunch even after several months. Mixed vegetable pickle makes a good combination for roti, paratha along with curd rice. It is prepared from vegetables like cauliflower, carrot, radish and turnip and spices like ginger, garlic and peppers. Preparing mixed vegetable pickle in winter is a must for many families as they get fresh and various varieties of vegetables in this season.
Onion Pickle: When onion is available in abundance and cheap, often people prepare onion thokku .It goes well with rice as well as chapatti and idli.
Garlic pickle: It is popular in Andhra and is prepared by mixing garlic pods, mustard seeds and jaggery with salt. This spicy pickle is a great way to spice up your meal.
Green Chili Pickle: Unlike onion and garlic pickle, this is rather hot and spicy and cannot be taken lightly hearted by any means.
Tomato Pickle: It is another popular Indian pickle having sweet and sour taste. It is not as hot as a green chili pickle. It is prepared from ripe tomatoes and goes well with rice as well as tiffins. .
Narthangai Dry Pickle: It is a must for every Tamil Brahmin house as these are used not only a tangy condiment, but also a medicine for digestive disorders.
In spite of using same main ingredients, Indian pickles differ in taste from states to state due to difference in preparation methods. South Indian mango pickle tastes very different from North Indian mango pickle mainly because, in south India sesame oil is used while mustard oil is preferred in northern states.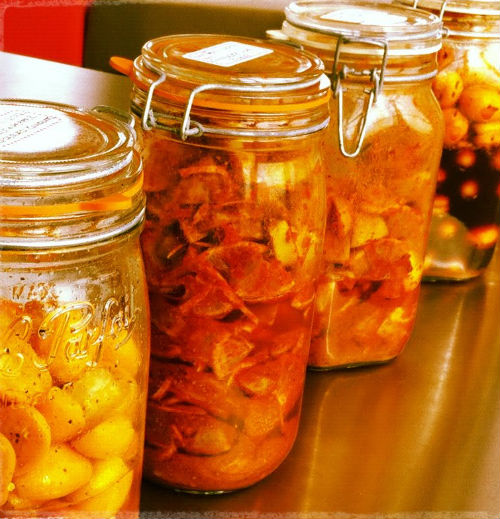 Preparing pickle at home is not a big task. It can be prepared easily with proper ingredients and can be preserved for months. Homemade pickles are best and can be tailored to your personal taste. Try these pickles that enhance the taste of your meals.
image credit: hungrytigress.com