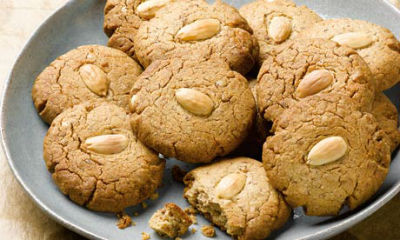 Ingredients:
Maida – 1 cup
Baking Powder – 1 tsp
Almond Flour – 3/4 cup
Sugar – 2/3 cup
Honey – 1/4 cup
Butter – 3/4 cup, unsalted
Cardamom Powder – 1/2 tblsp
Icing Sugar for dusting
Sliced Almonds for decoration
Method:
1. Heat a pan over medium flame.
2. Add the butter and allow it to melt.
3. Add sugar and honey.
4. Stir well till the sugar has dissolved completely.
5. Sift together maida and baking powder in a bowl.
6. Add the almond flour and cardamom powder.
7. Pour the butter-honey mixture and stir until combined.
8. Line a baking tray with parchment paper.
9. Place tablespoons of the dough on the tray and flatten slightly.
10. Lightly press an almond slice.
11. Ensure there is sufficient space between each cookie.
12. Place the tray in a preheated oven at 325F/160C.
13. Bake for 15 minutes, until light brown.
14. Remove and cool completely.
15. Sprinkle some icing sugar on top.
16. Store the cookies in an airtight container.
17. Serve.
image credit: Guardian.co.uk