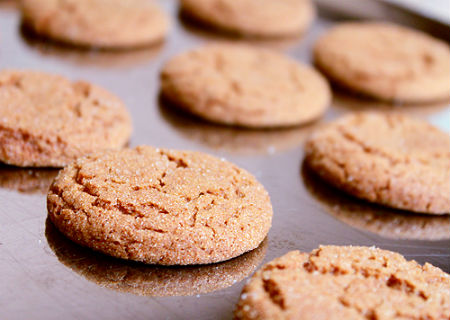 Ingredients:
Wheat Flour – 1 cup
Maida – 1 1/4 cups
Allspice Powder – 4 tsp
Ginger – 4 tsp, ground
Cinnamon – 2 tsp, powdered
Salt – 1/2 tsp
Baking Soda – 1 1/2 tsp
Sugar – 1 cup, granulated
Sunflower Oil – 3/4 cup
Pumpkin Puree – 1/2 cup (available in most supermarkets)
Egg – 1, large
Pure Vanilla Extract – 1 tsp
Molasses – 1/3 cup
Black Beans – 1 cup, rinsed and pureed
To make homemade Pumpkin Puree:
Pumpkin – 1
Method:
1. To make the pumpkin puree at home, cut the top of the pumpkin.
2. Cut the pumpkin into 2 and scrape out the seeds and membranes.
3. Cut the pumpkin into large pieces and keep in a baking tray.
4. Bake for about 45 minutes in a 350F/175C oven or until pumpkin is soft.
5. Remove the skin and scoop out the flesh.
6. Transfer to a blender and blend till smooth.
7. Optionally you can add 2 to 3 tblsp of water while blending.
8. To make the ginger cookies, mix the maida and wheat flour in a bowl.
9. Add salt, baking soda and cinnamon powder.
10. Beat the sugar, oil, pumpkin puree, egg and vanilla in an another bowl until smooth and fluffy.
11. Add the molasses and black beans.
12. Stir well and add the flour mixture.
13. Mix well to form a smooth soft dough.
14. Form the dough into small balls and flatten them on a lightly greased baking sheet.
15. Bake in a preheated oven at 350F/175C for 10 minutes.
16. Remove and cool on wire racks before serving.