A lovely little heart shaped cookies for your loved one this Valentine's Day. Simple and easy to make, they make for a great treat for any romantic occasion.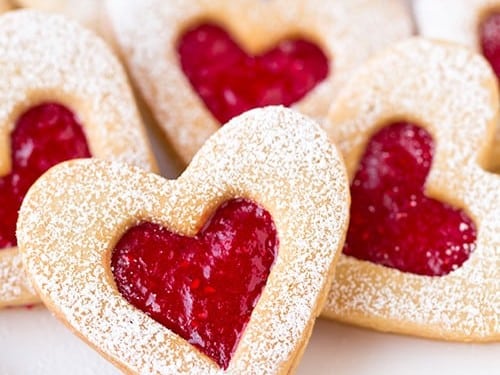 Ingredients:
Cinnamon – 3 tsp
Butter – 500 gms
Egg Yolks – 2
Caster Sugar – 300 gms
Plain Flour – 600 gms
Icing Sugar – 3/4 cup
Raspberry Jam – 3/4 cup (or any other flavour)
Vanilla Extract – 1 tblsp
Method:
1. Mix the butter and sugar in a bowl.
2. Add the egg yolks and vanilla extract.
3. Mix well until combined.
4. Ad the flour, cinnamon and mix well.
5. Shape it into a ball and wrap it in cling film.
6. Keep it in the fridge for 30 to 40 minutes.
7. Remove and roll out the dough on a lightly floured surface.
8. Using a heart shaped cookie cutter, cut into individual cookies.
9. Place them on a baking tray lined with nonstick sheets.
10. In half of the biscuits, cut out a small hole in the middle. Place all the biscuits in a preheated oven at 180C/350F for 10 minutes or until pale golden.
11. Remove and cool.
12. Meanwhile mix the jam and icing sugar in a bowl.
13. Spoon over some of the jam onto the whole biscuits and carefully place the ones (with the hole) on top.
14. Sprinkle a bit of icing sugar and keep aside to set.
15. Store in an airtight container.