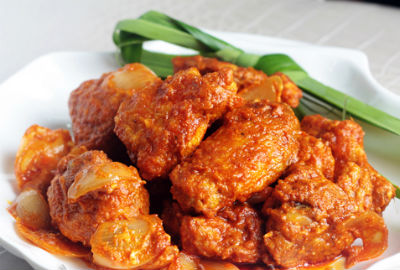 Ingredients:
Chicken – 1 cup, chopped, boneless, skinless
Corn Flour – 1/2 cup
Ginger Garlic Paste – 3 tsp
Turmeric Powder – 1 tsp
Garam Masala Powder – 2 tsp
Curd – 1/4 cup
Green Chillies – 1/4 cup, finely chopped (or as per taste)
Onions – 1 cup, finely chopped
Tomato Puree – 1/2 cup
Coriander Leaves – 1 cup, chopped
Red Chilli Powder – 2 tsp
Oil as required
Salt as per taste
Mustard Seeds – 1/2 tsp
Method:
1. Mix ginger garlic paste, garam masala powder and turmeric powder in a bowl.
2. Add the chicken pieces and mix.
3. Add corn flour, salt and little curd.
4. Mix well till the chicken pieces are coated nicely.
5. If desired, add 1 tsp of lemon juice and mix.
6. Keep the bowl in the fridge for 30 to 45 minutes.
7. Heat oil in a pan over medium flame.
8. Add the chicken pieces and fry for 2 minutes or till golden and crisp. Keep aside.
9. In a separate pan, heat oil over medium flame.
10. Add green chillies, mustard seeds and onions.
11. Saute for 2 minutes and add tomato puree, red chilli powder and reduce flame.
12. Stir-fry for 10 to 15 minutes.
13. Add red chilli powder and simmer for a minute or two.
14. Now add the fried chicken pieces and mix well.
15. Garnish with coriander leaves.
16. Transfer to a serving bowl.
17. Serve hot.
Tip: If you want more gravy, add a cup of water or more.