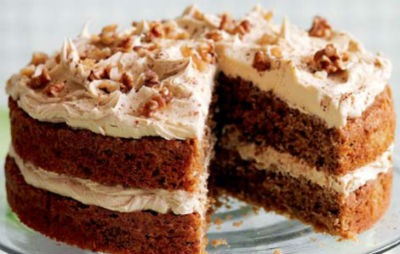 Ingredients:
Caster Sugar – 350 gms
Butter – 350 gms, unsalted, softened
Eggs – 6, beaten
Walnuts – 150 gms, chopped
Maida – 350 gms
Baking Powder – 1 tsp
Instant Coffee Granules – 2 tblsp, dissolved in 2 tblsp hot water
For the filling and topping:
Icing Sugar – 600 gms
Unsalted Butter – 250 gms
Instant Coffee Granules – 6 tblsp, dissolved in 4 tblsp boiling water
Cream – 8 tblsp
Walnuts – 50 gms, chopped
Method:
1. Beat the butter and sugar in a bowl until light and creamy.
2. Add the eggs, beating all the time.
3. Add the walnuts, maida and baking powder.
4. Add the dissolve coffee and mix well until combined.
5. Divide the mixture between two 20 cm greased cake tins (lined with greaseproof paper) and spread evenly.
6. Place the tins in a preheated oven at 180C/350F and bake for 25 minutes or until the cakes are golden brown on top.
7. Gently remove the cakes from the tin and keep them on a wire rack to cool completely.
8. Meanwhile, to make the filling and topping, heat butter in a small pan for a minute and keep aside.
9. Add the icing sugar into a large bowl and pour the melted butter.
10. Add the cream and dissolved coffee.
11. Beat well until smooth.
12. Now add the chopped walnuts and keep it in a fridge or outside till it is thick and almost set.
13. Spread half of the mixture on one of the cakes and place the other on top (like a sandwich).
14. Spread the remaining mixture on top.
15. Garnish with walnuts.
16. Store in an airtight container.
17. This stays good for 3 days.