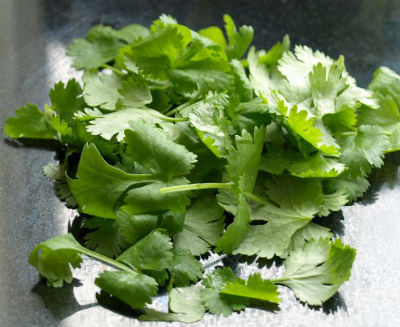 Ingredients:
Coriander Leaves – 1 bunch, washed, chopped
Green Chillies – 4
Coconut – 2 tblsp, grated
Roasted Gram – 1 tblsp
Sugar – 1/2 tblsp
Lemon Juice – 2 tsp
Salt as per taste
For tempering:
Oil – 1 tsp
Mustard Seeds – 1/2 tsp
Urad Dal – 1/2 tsp
Method:
1. Combine and grind together all the ingredients.
2. Add a little water if necessary.
3. Transfer to a serving bowl.
4. Heat oil for tempering in a small frying pan.
5. Fry the urad dal and mustard seeds for 45 seconds.
6. Pour this over the chutney and mix.
7. Serve with idli/dosa or as desired.