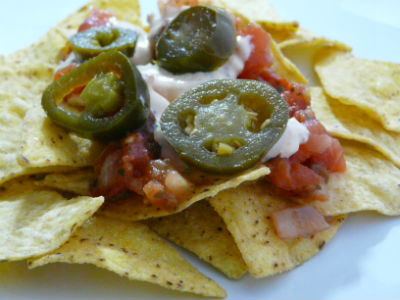 Ingredients:
Tortilla Chips – 175 gms
Warmed Refried Beans – 400 gms
Bottled Jalapeno Chillies – 2 tblsp, finely chopped
Roasted Peppers – 200 gms, drained and finely sliced
Salt and Pepper as per taste
Gruyere Cheese – 115 gms
Cheddar Cheese – 115 gms
Method:
1. Spread the tortilla chips out over the bottom of a large, shallow, ovenproof dish or roasting pan.
2. Cover with the warmed refried beans.
3. Sprinkle over the chillies and peppers and season to taste with salt and pepper.
4. Mix both the cheese together in a bowl and sprinkle on top.
5. Bake in a preheated oven at 200C/400F for 5 to 8 minutes or until the cheese is bubbling and melted.
6. Serve at once.