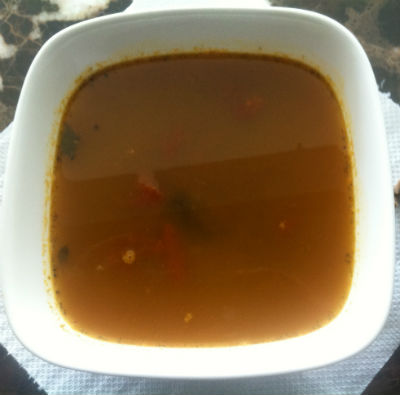 Ingredients:
Kandathippili (Indian Long Pepper) – 3 sticks
Black Peppercorns – 1 tsp
Toor Dal – 1 tsp
Coriander Seeds – 1 tsp
Cumin Seeds – 1 tsp
Curry Leaves – few
Asafoetida – little
Mustard Seeds – 1/2 tsp
Tamarind Extract – 1 cup
Ghee – 1 tsp
Garlic – 1 clove, minced (optional)
Salt as per taste
Method:
1. Heat ghee in a pan over medium flame.
2. Add the kandathippili, peppercorns, toor dal, coriander, cumin, garlic, curry leaves and asafoetida.
3. Stir-fry for a couple of minutes.
4. Then grind together the roasted ingredients and keep aside.
5. Pour the tamarind extract to a pan and add salt.
6. Place this over medium flame and bring to a boil.
7. Add the ground powder and add enough water.
8. Simmer till it starts to boil and remove.
9. Saute the mustard seeds in little ghee and add to the rasam.
10. Serve hot.
Tip: This is very good for cold, body pain and for lactating mothers.