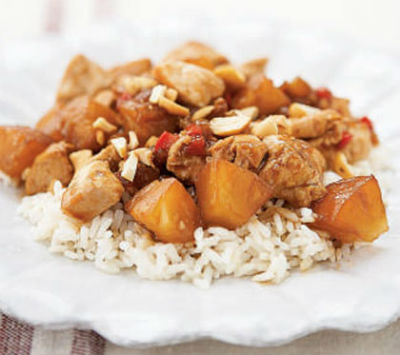 Ingredients:
Chicken – 750 gms, cut into pieces
Oil – 1/2 tblsp
Garlic Paste – 1 to 2 tsp
Dried Red Chillies – 2, de-seeded, broken into pieces
Dried Mango – 2 slices
Tamarind Extract – 1/4 cup
Salt – 1/4 tsp
Sugar – 1/4 tsp
Water – 1/4 cup
Method:
1. Marinate the chicken pieces with salt and keep aside.
2. Heat oil in a pan over moderate flame.
3. Add the chicken pieces and garlic paste.
4. Stir well to coat the chicken with garlic paste and cover with a lid.
5. Allow it to simmer over low heat for 3 to 5 minutes, stirring from time to time.
6. Remove the lid and cook till all water has been absorbed and chicken has browned.
7. Add the tamarind extract, dried chillies, water, sugar and dried mango.
8. Cook till most of the liquid has been absorbed and a little gravy is left.
9. Transfer to a serving dish and serve hot with rice.
Note: image is for illustration purposes only and not that of the actual recipe.
Photo: Randy Mayor