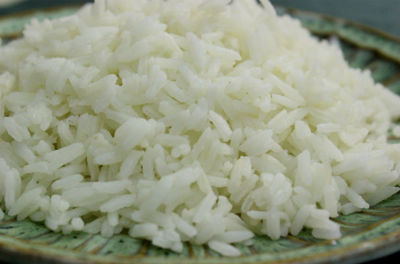 Ingredients:
Basmati Rice – 250 gms, soaked for 15 minutes
Onion – 1, finely chopped
Tomatoes – 2, finely chopped
Khoya – 50 gms, unsweetened
Green Peas – 1/4 cup
Curd – 3 tsp
Red Chilli Powder – 1 tsp
Turmeri Powder – 1/4 tsp
Oil – 2 tsp
Salt as per taste
Grind together:
Ginger – a small piece
Garlic – few
Bay Leaf – 1
Clove – 1
Cardamom – 1
Method:
1. Heat oil in a pan over medium flame.
2. Saute the onions for a minute.
3. Add tomatoes and 1 tsp of the ground paste.
4. Add green peas, salt, red chilli powder, turmeric powder and curd.
5. Mix well.
6. Add khoya and stir-fry for 30 seconds.
7. Pour 2 cups of water and bring to a boil.
8. Add the rice and cook till it is done.
9. Stir and transfer to a serving plate.
10. Serve hot.
Note: image is for illustration purposes only and not that of the actual recipe.