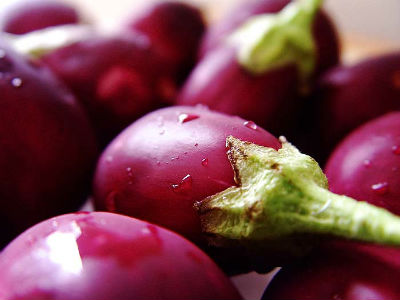 Ingredients:
Basmati Rice – 250 gms, soaked for 15 minutes
Onion – 1, finely chopped
Brinjals – 3, cut into thin rounds
Tomatoes – 3, chopped
Red Chilli Powder – 1 1/4 tsp
Coriander Powder – 1 tsp
Turmeric Powder – 1/4 tsp
Mint Leaves – few
Curry Leaves – few
Coriander Leaves – few
Ghee – 2 tsp
Oil as required
Salt as per taste
Grind together:
Ginger Garlic Paste – 3/4 tsp
Cloves – 1
Cardamom – 1
Cinnamon – 1
Method:
1. Heat oil in a pan over medium flame.
2. Add the brinjals, red chilli powder and salt.
3. Stir-fry for a minute or two.
4. Heat ghee and little oil in a pan over medium flame.
5. Add the onions, tomatoes, 1/2 tsp ground paste, coriander powder and turmeric powder.
6. Add mint leaves, coriander leaves, curry leaves and stir well.
7. Add the rice and mix well.
8. Remove half of the rice mixture and keep aside.
9. Spread the brinjals and add the reserved rice mixture on top.
10. Pour a little ghee and cover the pan with a lid.
11. Cook over low-medium flame till the rice is done.
12. Remove the lid and stir well.
13. Serve hot.