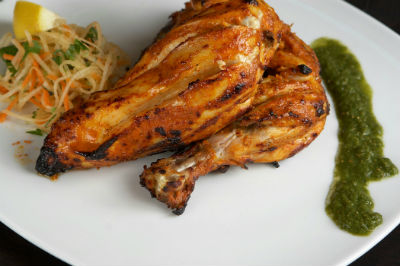 Ingredients:
Chicken – 1, about 400 gms, cut into 4 pieces, washed, dried
Butter – 2 tblsp
For marinade:
Hung Curd – 1/2 cup
Butter – 1 tblsp
Ginger Garlic Paste – 1 1/2 tsp
Lemon Juice – 1/2 tsp
Kasoori Methi – 1 tblsp, dry roasted
Maida – 1 tblsp
Cumin Powder – 1/3 tsp
Coriander Powder – 1/4 tsp
Garam Masala Powder – 1/4 tsp
Chaat Masala – 1/4 tsp
Dry Mango Powder – 1/3 tsp
Salt – 3/4 tsp
Red Chilli Powder – 1/2 tsp
Orange Red Food Colour – a small pinch
Method:
1. Combine all the marinade ingredients in a bowl.
2. Add the chicken pieces and mix well till evenly coated.
3. Keep aside for 2 to 4 hours in a fridge.
4. Place the marinated chicken pieces in a preheated oven at 180C and brush with the leftover marinade.
5. Cook for 10 to 15 minutes.
6. Baste with the butter and cook for another 5 to 10 minutes till tender and crisp.
7. Remove and transfer to a serving plate.
8. Garnish with onion rings and serve hot.