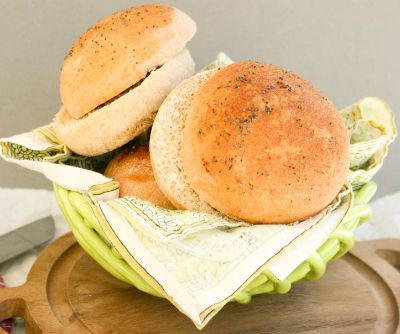 Ingredients:
Buns – 4 (regular ones or burger buns)
Cheese – 1/2 cup, grated
Green Peas – 1/4 cup, boiled, mashed
Carrot – 2 tblsp, grated
Green Chillies – 1, finely chopped
Butter as required
Salt as per taste
Method:
1. Combine cheese, carrot, peas, green chillies and salt together in a bowl.
2. Slice the buns horizontally into two halves.
3. Remove from the insides from one half to make a small depression (hole).
4. Fill it with 1 tblsp of the cheese peas mixture.
5. Cover with the other half.
6. Repeat the same with all the buns and stuff with the cheese peas mixture.
7. Heat a tawa over medium flame.
8. Place the buns on top and add butter.
9. Cook till the buns become light brown on both sides.
10. Remove and serve hot.
Tip: You can also add lettuce, onions or boiled potatoes.
Note: image is for illustration purposes only and not that of the actual recipe.