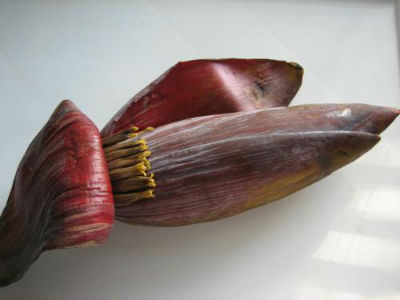 Ingredients:
Parboiled Rice – 1 cup
Vazhaipoo (Banana Flower) – 1, small, cleaned, finely chopped
Toor Dal – 1/2 cup
Bengal Gram Dal – 1/2 cup
Ginger – a small piece
Garlic – 4 cloves
Dry Red Chillies – 6
Saunf – 1 tsp
Onion – 1, finely chopped
Cheese – 1 tblsp, grated
Oil as required
Salt as per taste
Method:
1. Soak the dals together for 2 hours.
2. Separately soak the rice for 2 hours.
3. Grind the rice first for a few minutes and then add the dals.
4. Add ginger, garlic, dry red chillies, saunf and salt.
5. Grind well to a coarse paste.
6. Heat oil in a pan.
7. Saute the onions and vazhaipoo.
8. Add this to the batter and mix well.
9. Heat a tawa over medium flame.
10. Pour a ladleful of the batter to the centre and spread to make a medium circle.
11. Sprinkle some cheese and add oil to the sides.
12. Cook on both sides till golden brown.
13. Remove and serve hot.