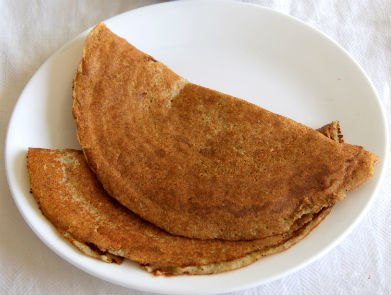 Ingredients:
Peerkangai (Ridge Gourd) – 1, small
Idli Rice – 250 gms
Toor Dal – 100 gms
Chana Dal – 100 gms
Black Urad Dal – 100 gms
Ginger – 1 inch piece, peeled, finely chopped
Tomato – 1, chopped
Oil – 100 ml
Salt as per taste
Method:
1. Soak the idli rice for an hour in water.
2. Combine the three dals and soak them in water for 1 hour.
3. Add tomato, ginger and salt to the dals.
4. Grind the rice and dals separately to a smooth batter.
5. Combine both the batters together and keep aside.
6. Peel the peerkangai and chop into small pieces.
7. Add this to the batter and mix well.
8. Heat a tawa over medium flame.
9. Pour a ladleful of the batter and cook the adai on both sides, adding oil, till cooked and light brown.
10. Remove and serve hot with chutney of choice.
Note: image is for illustration purposes only and not that of the actual recipe.
Image credit: divya-dilse.blogspot.in