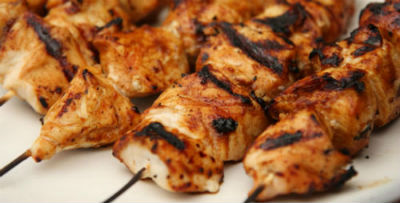 Ingredients:
Chicken – 450 gms, boneless, washed, dried, cubed
Fenugreek Powder – 1/2 tsp
Ginger Garlic Paste – 1 tblsp
Green Chillies – 1 tsp, chopped
Coriander Leaves – 1/2 tblsp, chopped
Vinegar – 1/2 tsp
Oil – 3 tblsp
Besan Flour – 3 tsp
Egg Yolks – 3, whisked
Breadcrumbs – 1 1/2 tblsp
Salt – 1 tsp or as per taste
Method:
1. Combine fenugreek powder, ginger-garlic paste, green chillies, coriander leaves, vinegar and salt together.
2. Marinate the chicken cubes in this mixture and keep it in the fridge for 20 minutes.
3. Heat oil in a pan over moderate flame.
4. Stir-fry the besan for 30 seconds and saute the chicken cubes for 2 minutes till half-cooked.
5. Add breadcrumbs and mix well.
6. Remove and transfer to a plate.
7. Skewer the chicken cubes and roast till cooked in an oven or tandoor.
8. Brush with the egg yolks and roast again till the coating turns golden brown.
9. Remove and serve hot with onion rings.
Note: image is for illustration purposes only and not that of the actual recipe.