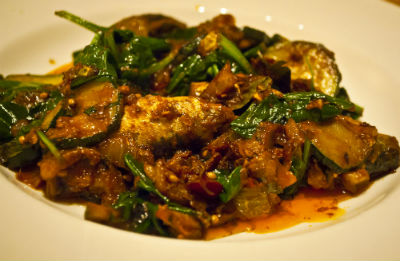 Ingredients:
White Fish – 250 gms, cubed
Kashmiri Spinach Leaves – 250 gms, washed, chopped
Water – 6 cups
Garlic – 1/2 tblsp, crushed
Red Chilli Paste – 1 tsp
Turmeric Powder – 1 tblsp
Cardamom – 2
Ghee – 1/2 cup
Onions – 1/4 cup, sliced
Red Chilli Powder – 1/2 tsp
Ver Paste – 1/2 tsp
Black Cumin Seeds – 1/4 tsp
Salt as per taste
Method:
1. Heat little oil in a pan over moderate flame.
2. Fry the fish till reddish brown and keep aside.
3. Pour the water into a pan and place over moderate flame.
4. Add garlic, turmeric powder, cardamom, red chilli paste and salt.
5. Bring the pan to a boil and add the spinach leaves.
6. Bring to a boil again and reduce flame to low.
7. Cook till the water has almost evaporated and spinach leaves are tender.
8. Meanwhile, heat ghee in a pan and saute the onions.
9. Add the red chilli powder, ver paste and fried fish.
10. Add the spinach leaves and sprinkle cumin seeds.
11. Mix well and remove.
12. Serve hot.
Note: image is for illustration purposes only and not that of the actual recipe.