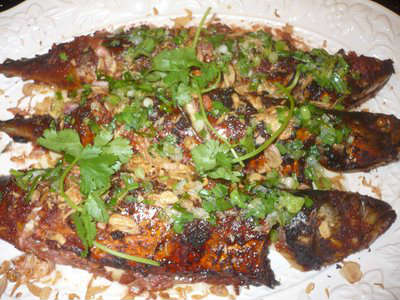 Ingredients:
Sea Bass or Snapper – 500 gms, cleaned, incisions made on the sides and dried
Oil – 1 1/2 tblsp
Garlic – 1/2 tblsp, minced
Coriander Leaves – handful
For the sauce:
Fish Sauce – 2 to 3 tblsp
Lime Juice – 1 1/2 tblsp
Rice Vinegar – 1 1/2 tblsp
Caster Sugar – 1 tblsp
Garlic – 1 tblsp, minced
Water – 1/4 cup
Red CHillies – 1 tsp, minced
Corn Flour – 1/2 tblsp, mixed with 1 tblsp water
Method:
1. Heat 1/2 tblsp of oil in a pan.
2. Stir-fry the garlic for a minute and remove to a small bowl.
3. Brush the fish with the remaining oil and grill for 5 to 10 minutes on each side, until cooked.
4. Remove and keep aside in a serving plate.
5. Combine all the sauce ingredients, except corn flour, in a pan over medium flame.
6. Bring to a boil, stirring all the time until the sugar has dissolved.
7. Reduce flame to low and add the cornflour.
8. Cook until the sauce thickens.
9. Remove and pour over the grilled fish.
10. Garnish with the fried garlic and coriander leaves.
11. Serve at once.
image credit: kuchingaseanfoods.blogspot.com