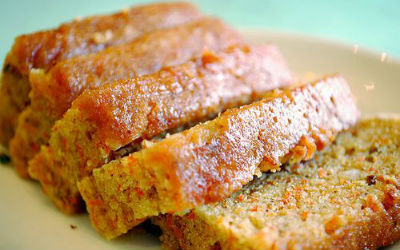 Ingredients:
Carrots – 3 cups, grated, squeezed well to remove the moisture
Raisins – 400 gms
Maida – 500 gms
Baking Powder – 2 1/2 tsp
Sugar – 350 gms, powdered
Thick Curd – 300 gms
Sunflower Oil – 300 ml + 3 tsp

Method:
1. Sift the maida and baking powder together. Keep aside.
2. Combine the sugar, oil and curd in a mixer and process till well blended.
3. Transfer the maida to a bowl and gently add the sugar-curd mixture and mix gently.
4. Mix well all the ingredients are well combined.
5. Add the carrots and raisins.
6. Mix again gently.
7. Pour this mixture into a greased loaf tin.
8. Place it in a preheated oven at 180C for 45 minutes.
9. Remove when done and allow to cool.
10. Cut into slices and serve.
Tip: To check if the cake is done, insert a knife in the centre and if it comes out clean, it is ready.