A light and healthy caesar salad with grilled chicken and lettuce tossed in a tangy dressing.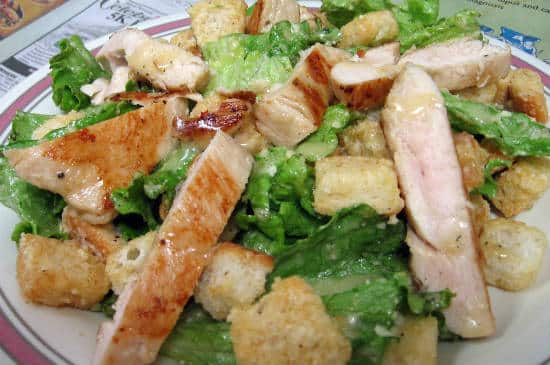 Ingredients:
Chicken Breasts – 2, skinless, boneless
Dijon Mustard – 1 tsp
Lemon Juice – 3 tsp
Parmesan Cheese – 1 tblsp
Olive Oil – 2 tblsp
Worcestershire Sauce – 1/8 tsp
Onion – 1, small, chopped (optional)
Bread Slice – 1
Lettuce – 3 to 4 cups, chopped
Salt as per taste
Black Pepper Powder as per taste
Method:
1. Mix the lemon juice, dijon mustard, cheese, worcestershire sauce, 1 tblsp olive oil, salt and pepper in a bowl.
2. Whisk well and keep aside.
3. Brush the chicken breasts with the remaining oil and sprinkle some salt and pepper.
4. Place them on a grill pan over medium flame.
5. Grill for 5 to 6 minutes or until the chicken is cooked through.
6. Remove and slice the chicken into bite-sized pieces.
7. Cut the bread slice into small squares and fry until crisp. Keep aside.
8. Add the lettuce and the dressing to a serving bowl.
9. Toss well and add the chicken pieces and bread pieces.
10. Sprinkle a little cheese if preferred and serve at once.