Crisp green beans and toasted walnuts meet in a tangy tarragon-infused dressing for a refreshing Green Bean and Walnut Salad.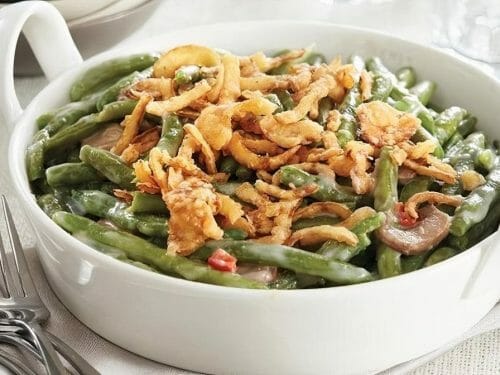 Introducing the Green Bean and Walnut Salad! This dish is a delightful blend of textures and flavours to awaken your taste buds. Imagine crisp, blanched green beans harmonizing with the nutty goodness of toasted walnuts. A finely chopped onion and garlic medley adds a hint of zest, while freshly grated Parmesan cheese brings its creamy, savoury touch.
What truly makes this salad shine is the tarragon-infused dressing. A combination of smooth olive oil, zingy white wine vinegar, and aromatic fresh tarragon creates a symphony of taste that coats every bite. The dressing is a compelling balance of tangy and herbal, elevating the simple green beans to gourmet levels.
Green Bean and Walnut Salad is a treat for your taste buds and a feast for the eyes. The vibrant green of the beans, the golden-brown hues of the toasted walnuts, and the grated Parmesan create an inviting visual mosaic that promises a culinary adventure.
As a versatile dish, this salad can stand alone as a light and refreshing meal, perfect for those warm days. It also plays well with other dishes – consider it an excellent companion to grilled chicken, salmon, or a crusty bread loaf. If you're a fan of fresh, vibrant salads like this one, you might also enjoy exploring recipes like "Citrus Kale Salad" or "Mediterranean Quinoa Salad.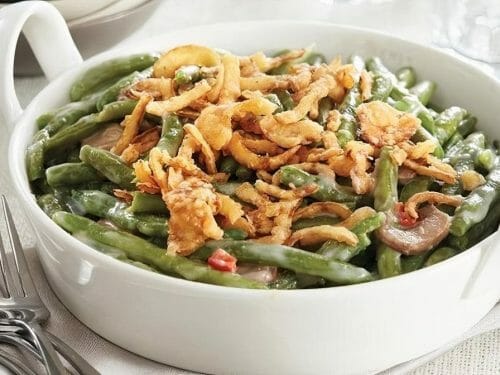 Green Bean and Walnut Salad
Crisp green beans and toasted walnuts meet in a tangy tarragon-infused dressing for a refreshing Green Bean and Walnut Salad.
Ingredients
450

g

Green Beans

1

Small Onion (finely chopped)

1

clove

Garlic (chopped)

4

tbsp

Parmesan Cheese (freshly grated)

2

tbsp

Walnuts or Almonds (chopped, for garnish)
For the Dressing:
6

tbsp

Olive Oil

2

tbsp

White Wine Vinegar

Salt and Pepper

2

tsp

Fresh Tarragon (chopped)
Instructions
Top and tail the green beans, leaving them whole.

Cook the beans in salted boiling water for 3 to 4 minutes, then drain and refresh under cold water.

Place the beans in a mixing bowl and add chopped onion, garlic, and Parmesan cheese.

In a screw-top lid jar, combine olive oil, white wine vinegar, salt, pepper, and chopped tarragon. Shake well to create the dressing.

Pour the dressing over the salad and gently toss to coat.

Cover the bowl with clingfilm and chill in the refrigerator for 30 minutes.

Remove the salad from the refrigerator 10 minutes before serving.

Stir the salad and transfer it to a serving dish.

Toast the nuts in a dry frying pan over medium heat for about 2 minutes until they begin to brown.

Sprinkle the toasted nuts over the salad before serving.
Serving Size: 4 servings
Frequently Asked Questions:
Can I use almonds instead of walnuts in this salad? 
Absolutely! Almonds can be a great substitute for walnuts, adding a slightly different nutty flavour to the Green Bean and Walnut Salad.
What can I pair with this salad for a complete meal? 
This salad complements various dishes wonderfully. Try serving it alongside grilled chicken, seared salmon, or even as a side to a crusty bread and cheese spread.
Can I make the dressing ahead of time? 
Definitely! Preparing the dressing in advance and storing it in the fridge allows the flavours to meld, enhancing the overall taste of the salad.
Is there a vegetarian alternative to Parmesan cheese for this recipe? 
Certainly! You can explore vegetarian-friendly Parmesan alternatives available in stores. Alternatively, nutritional yeast can provide a cheesy flavour without animal products.
Can I make a larger batch of this salad for a potluck? 
Of course! Just double or triple the ingredient quantities based on the number of servings you need. It's a crowd-pleaser that's sure to be a hit at any gathering.