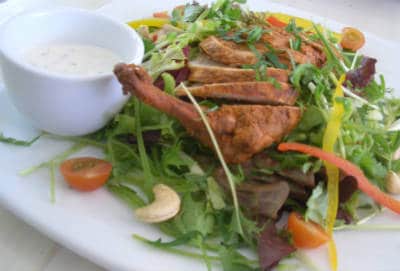 Ingredients:
Chicken Thighs – 4, boneless
Tandoori Paste – 2 tblsp
Buttermilk – 2 tblsp
Naan – 4 (optional)
Mint Leaves – few
Onions – 2, sliced
Pomegranate Seeds – 2 tblsp
Baby Spinach Leaves – handful
Mango – 200 gms, cubed
Lime Wedge
Wooden Skewers – soaked in water for 30 minutes
For the sauce:
Yogurt – 1/2 cup
Garlic – 1 clove, crushed
Mint Leaves – few, chopped
Cumin Powder – a pinch
Method:
1. Rub the tandoori paste all over the chicken.
2. Pour the buttermilk over and mix well.
3. Keep aside for 30 minutes.
4. Skewer the chicken and grill for 5 minutes on each sides or until cooked.
5. Remove and transfer to a serving plate.
6. Mix the mint leaves, onions, baby spinach leaves, pomegranate seeds and mangoes.
7. Place it next to the chicken.
8. Mix the sauce ingredients and keep it in a small cup.
9. Serve with naan and lime wedge.
image via flickr: https://www.flickr.com/photos/the_soup_factory/927376098/