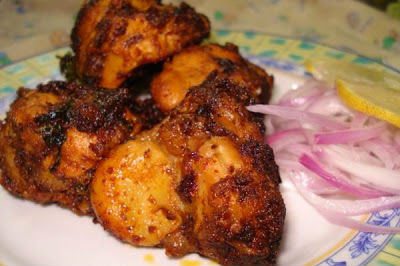 Ingredients:
Chicken – 250 gms
Hung Curd – 1/2 cup
Maida – 1/2 tblsp
Capsicum – 1, cut into small pieces
Onion – 1, cut into rings
Salt – 1/8 tsp
Red Chilli Powder – 1/8 tsp
Pepper Powder – 1/8 tsp
Juice of 1/2 Lemon
Mint Chutney – 1/2 tblsp
Grind to a paste:
Onion – 1/2, chopped
Ginger – 1/4 inch piece
Garlic – 2 cloves
Coriander Leaves – 1 tblsp, chopped
Cardamom – 1
CInnamon – 1/2 inch stick
Fennel Seeds – 1/2 tsp
Black Peppercorns – 3
Clove – 1
Cumin Seeds – 1/2 tsp
Coriander Seeds – 1 tsp
Carom Seeds – 1/4 tsp
Salt – 1/2 tsp
Red Chilli Powder – 1/4 tsp
Chaat Masala – 1/8 tsp
Garam Masala Powder
Method:
1. Combine hung curd, maida and ground paste in a bowl.
2. Add the chicken pieces and mix well.
3. Keep aside for 3 to 4 hours.
4. Meanwhile, mix the capsicum, onion, salt, red chilli powder, pepper powder, lemon juice and mint chutney.
5. Keep this in the fridge till required.
6. Heat oil in a pan over medium flame.
7. Add the chicken pieces and fry till golden brown.
8. Reduce flame and cook for a few more minutes so that the chicken is fully cooked.
9. Remove and drain excess oil.
10. Serve with the onion-capsicum salad and some lime wedges.