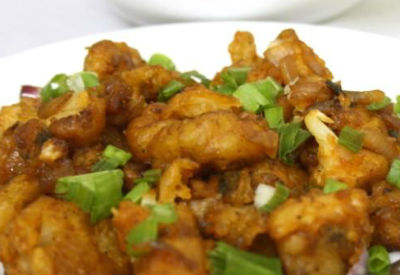 Ingredients:
Cauliflower – 1 cup, cleaned, washed and chopped
Onion – 1/4 cup, chopped
Capsicum – 1/4 cup, chopped
Green Chilli Paste – 1/4 tsp
Green Chillies – 1, finely chopped
Ginger Garlic Paste – 1/2 tsp
Soy Sauce – 1 tblsp
Salt as per taste
Oil as required
Spring Onions – few, finely chopped
Pepper Powder as per taste
Method:
1. Heat a pan of water over medium flame.
2. Add the cauliflower and capsicum.
3. Cook for 2 minutes and remove.
4. Drain water and transfer to a bowl, cauliflower and capsicum separately.
5. Sprinkle some cornflour on the cauliflower pieces.
6. Heat oil in a frying pan.
7. Deep fry the cauliflower pieces and reserve.
8. Heat little oil in a pan.
9. Add ginger garlic paste, onions, green chillies and capsicum.
10. Stir-fry for a minute or two.
11. Add the green chilli paste, soy sauce, pepper powder and salt.
12. Stir and mix well.
13. Add the cauliflower pieces and mix well.
15. Garnish with spring onions.
16. Serve hot.