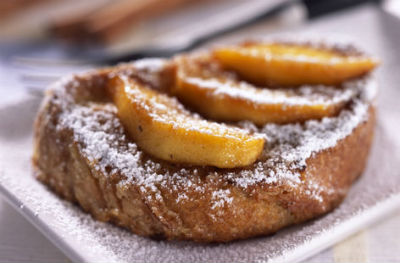 Ingredients:
Eggs – 2
Milk – 1 tblsp
Sugar – 1 tblsp, fine
Bread Slices – 2, thick, crusts removed
Butter – as required, unsalted, for frying
Sunflower Oil for frying
Cinnamon Powder – 1/4 tsp
For the Apples:
Butter – 1/2 tblsp, unsalted
Sunflower Oil – little
Apple – 1, peeled, cored, cut into thin wedges
Brown Sugar – 1 tsp (optional)
Method:
1. Beat the eggs with milk and 1/2 tblsp sugar in a bowl.
2. Add the bread slices and let them soak.
3. Ensure they are coated well with the mixture.
4. Keep aside for 15 to 20 minutes.
5. Heat butter and boil in a pan over medium flame.
6. Add the sliced apples and cook for 4 to 6 minutes.
7. Cook until soft and lightly golden.
8. Add a litle brown sugar and cook till a buttery syrup is formed.
9. Remove the apples and keep them aside.
10. Heat a pan over medium flame.
11. Add a little butter and dash of oil.
12. Place the bread slices and spoon over any leftover egg mixture.
13. Fry for a minute or two untill the bottom is golden brown and flip over.
14. Cook the other side for a minute or two.
15. Transfer to a serving plate.
16. Sprinkle any remaining sugar over the bread and place the warm apples along with the syrup on top.
17. Serve.