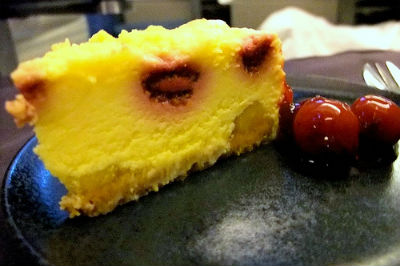 Ingredients:
McVitie's Digestive Biscuit – 50 to 60 gms, crushed
Butter – 20 gms, melted
Bramley Aples – 2, medium, peeled, cored, sliced
Raspberries – 45 gms
Sugar – 2 tblsp, granulated
Cinnamon Powder – 1/4 tsp
Plain Yogurt – 1/3 cup
Castor Sugar – 1/2 tblsp
Egg – 1
Method:
1. Mix the biscuit crumbs, except 1 tblsp, with the butter.
2. Press into the base of a 6 inch loose-bottomed baking tin and place in the fridge for 15 to 25 minutes.
3. Heat a pan over moderate flame.
4. Add the apples with cinnamon powder and 1 tblsp sugar.
5. Bring to a boil and simmer on low flame till apples are well cooked and resemble a sauce.
6. In a separate pan, cook the raspberries with 1 tblsp sugar until all liquid evaporates and the sauce is thick and smooth.
7. Spread 2/3rd of the apple sauce in the baking tin and spread 2/3rd of the raspberry sauce over it.
8. Mix the remaining apple and raspberry sauce with yogurt, sugar and eggs.
9. Pour this over the raspberry sauce.
10. Bake the cheesecake in a preheated oven at 190C/375F for 30 to 60 minutes.
11. Remove and cool for 3 to 5 minutes before removing from the tin.
12. Sprinkle with the reserved crumbs.
13. Cut into slices and serve hot or cold.
Note: image is for illustration purposes only and not that of the actual recipe.
Image credit: kwongeats/flickr