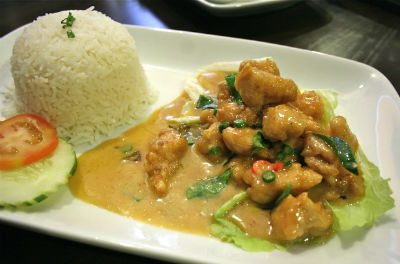 Ingredients:
Chicken Breasts – 2, boneless, skinless
Buttermilk – 3/4 cup
Maida – 1/3 cup
Butter – 1/8 cup, unsalted, melted
Salt as per taste
Black Pepper Powder as per taste
For the white sauce:
Butter – 1 tblsp
Maida – 1 tblsp
Milk – 1/2 cup
Salt as per taste
Method:
1. To make the white sauce, heat butter in a small pan over medium flame.
2. Add the maida and salt. Whisk well for a minute.
3. Add the milk and whisk until thick and bubbly.
4. Keep aside.
5. Sprinkle salt and pepper over the chicken.
6. Dip the chicken in 1/4 cup of buttermilk and dredge in maida flour.
7. Add butter to a greased baking dish.
8. Arrange the chicken in the dish and place it in a preheated oven at 425F.
9. Bake for 15 minutes and turn it over.
10. Now bake for another 10 minutes.
11. Meanwhile mix the remaining buttermilk with the white sauce.
12. Remove the chicken and pour the buttermilk mixture over it.
13. Cover with a foil and bake for 10 minutes.
14. Serve hot with cooked rice.
image credit: hallyu8.com