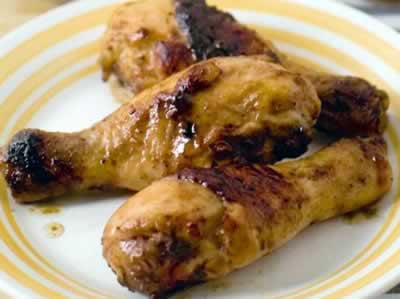 Ingredients:
Chicken Drumsticks – 5 to 6
Orange Juice – 1/2 cup
Brown Sugar – 1/2 tblsp
White Wine Vinegar – 2 tblsp
Salt – 1/4 tsp
Butter – 1 tblsp
For the Orange Glaze:
Brown Sugar – 1/4 cup
Orange Juice – 2 tblsp
Orange Marmalade – 2 tblsp
Dijon Mustard – 1 tblsp
Salt – 1 to 1 1/2 tsp
Method:
1. Mix all the orange glaze ingredients in a bowl and keep it in the fridge till required.
2. Combine orange juice, brown sugar, vinegar and salt in a bowl.
3. Place the chicken drumsticks in a ziplock bag and pour the orange marinade.
4. Seal the bag and shake well to coat the drumsticks.
5. Keep the bag in the fridge for 2 to 3 hours.
6. Heat a grill over medium flame.
7. Add the butter and place the marinated chicken on it.
8. Brush with the orange glaze and cook for 5 minutes each side.
9. Remove and serve hot.