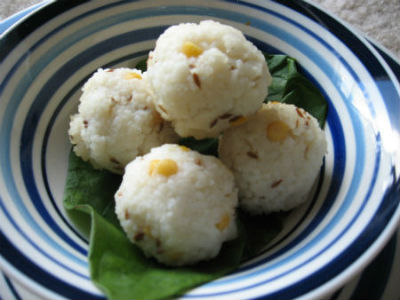 Ingredients:
Rice – 1 kg
Chana Dal – 1/2 kg
Salt as per taste
Method:
1. Wash and dry rice.
2. Grind fine like semolina.
3. Add double the amount of water to that of rice and bring to a boil.
4. Add salt and rice.
5. Cook on low heat while stirring constantly.
6. Once it has been cooked, transfer to a broad plate.
7. Cook dal till slightly soft.
8. Drain and cool.
9. Add dal to rice and mix well.
10. When cool, make small balls.
11. Steam cook these balls for 5 minutes.
12. Serve.
This is quite commonly made during Ganesh Chaturthi.
image credit: worldstuff.net