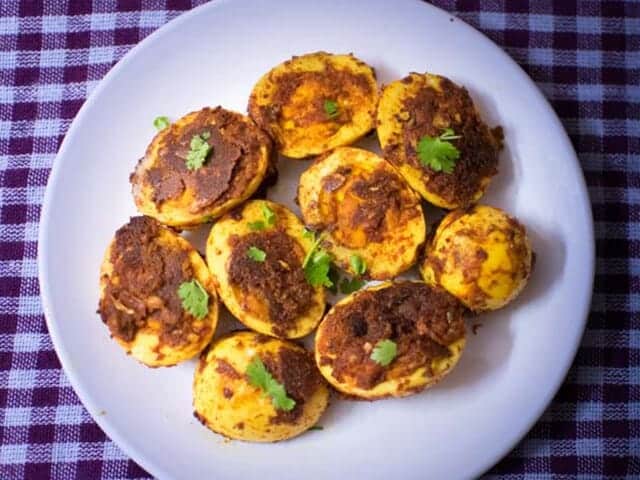 Ingredients:
Eggs – 6
Onions – 2, chopped
Ginger – 1/2 inch piece, crushed
Garlic – 5 cloves, crushed
Green Chillies – 1, chopped
Gram Flour – 1 tsp
Rice Flour – 1/2 tsp
Coriander Leaves – 1 bunch
Salt as per taste
Oil as required
Method:
1. Boil 4 eggs and remove the shells.
2. Cut them into 4 pieces and keep aside.
3. Mix the rice flour and gram flour together with little salt.
4. Break the remaining 2 eggs in a bowl and beat well.
5. Heat oil in a pan over medium flame.
6. Dredge the boiled egg pieces in the flour batter and then dip them in the beaten eggs.
7. Add them to the hot oil and fry till done.
8. Heat 1 tsp oil in a pan.
9. Saute the ginger and garlic until golden.
10. Add the onions, green chillies and salt.
11. Fry until onions turn golden.
12. Add the fried egg pieces and stir well.
13. Garnish with coriander leaves.
14. Serve.
Note: image is for illustration purposes only and not that of the actual recipe.
Image credit: anusouthrecipes.blogspot.com