A delicious and flavourful vegetarian bean burger that is easy to make. Ideal for a quick lunch/dinner or as a party bite.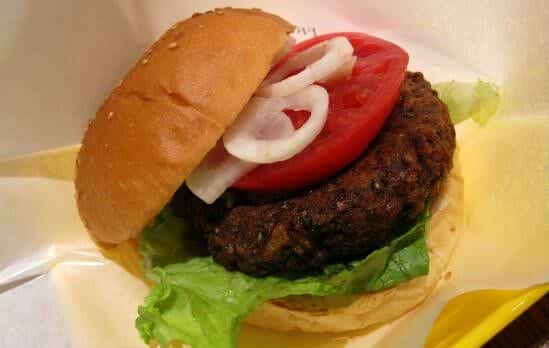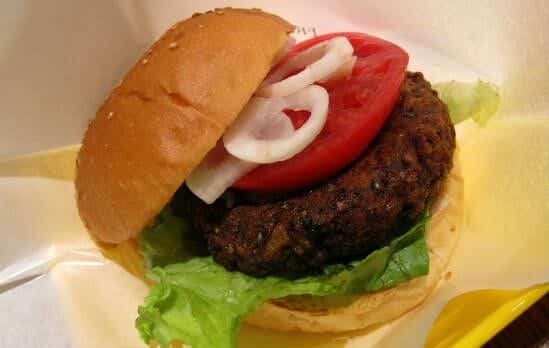 Ingredients:
Onions – 2, chopped
Garlic – 3 to 4 cloves, crushed
Green Chillies – 2, finely chopped
Olive Oil – 2 tblsp
Baby Spinach – 400 gms, chopped
Red Chillies – 2, chopped
White Kidney Beans – 750 gms, preferably canned (if using dried beans, soak them in water for 8 to 12 hours)
Breadcrumbs – 100 gms
Coriander Leaves – handful, chopped
Cheese – 150 gms
Corn Flour – 2 tblsp, mixed with a little water
Potato – 1, boiled, peeled, mashed
Oil – 1/4 cup
Salt as per taste
Black Pepper Powder as per taste
To Serve:
Burger Buns as required, halved, toasted
Butter (or Mayonnaise)
Tomato Sauce
Lettuce
Sliced Tomatoes
Sliced Onions
Sliced Cucumber
Method:
1. Heat a pan of water over medium flame and bring to a boil.
2. Add the spinach leaves and blanch them for a minute or until the leaves start to wilt.
3. Drain well and dip them in a bowl of cold water.
4. Drain and keep them aside.
5. Heat olive oil in a pan over medium flame.
6. Add the onions and saute for 5 minutes.
7. Add garlic, green chillies and red chillies.
8. Cook for a minute or two. Switch off the flame.
9. Drain the beans well and mash them until chunky.
10. Add the spinach to the beans along with the onion mixture, potato breadcrumbs, coriander leaves, cheese and corn flour.
11. Add salt and pepper powder. Mix well.
12. Shape the mixture into round patties.
13. Keep them in the fridge for 30 to 40 minutes.
14. Heat oil in a pan over medium flame.
15. Cook the prepared burger patties until golden brown on both sides.
16. Spread some butter and tomato sauce on the burger buns.
17. Place the cooked patties on one half and top up with slices of tomato, onion, cucumber and lettuce.
18. Cover with the other half and insert a toothpick to secure the burger.
19. Serve at once with fries or onion rings.