A simple and delicious dish for brunch, lunch or dinner.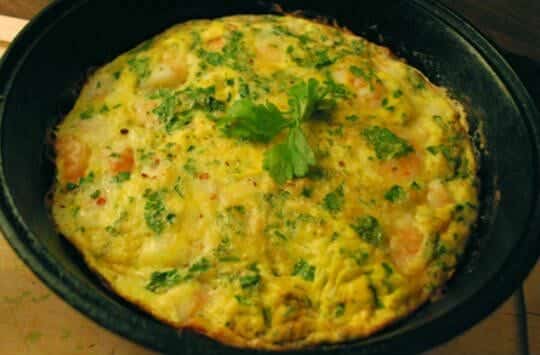 Ingredients:
Eggs – 4
Shrimps – 1/2 cup, cooked, deveined, peeled
Spring Onions – 1/4 cup, chopped
Cheese – 1 tblsp, grated
Maida (Plain Flour) – 2 tsp
Baking Powder – 1/2 tsp
Salt as per taste
Black Pepper Powder as per taste
Olive Oil – 1 tblsp
Tomatoes – 1, thinly sliced (optional)
Coriander Leaves (or Parsley) – few, chopped, to garnish
Method:
1. Break the eggs into a bowl.
2. Add cheese, maida, spring onions, baking powder, salt and pepper powder.
3. Whisk well.
4. Heat little oil in a nonstick pan over medium flame.
5. Pour the egg mixture and tilt the pan so that the mixture spreads evenly.
6. Cook until the eggs are semi-solid. Add some of the shrimps and place a few tomato slices on top.
7. Cook for a few more minutes and flip it over.
8. Remove and garnish with coriander leaves.
9. Cut into slices and serve.