Cheeseburgers are a popular American fast food consisting of a cooked beef patty topped with tomatoes, onion, lettuce, ketchup, mayonnaise and placed in-between 2 halves of a burger bun. Often served with fries, they are a meal by itself.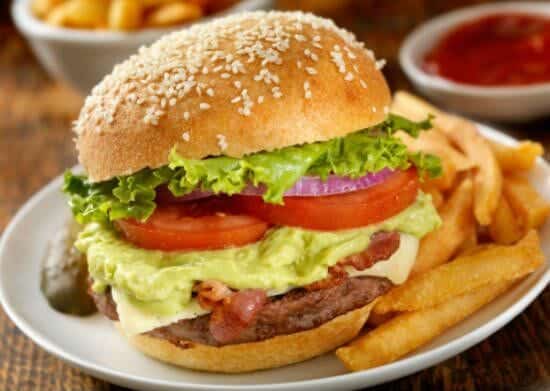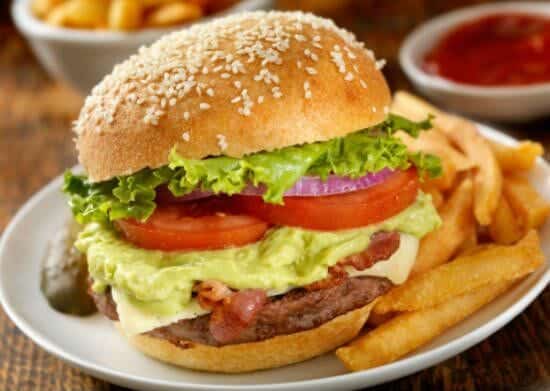 Ingredients:
Beef – 500 gms, minced (For a vegetarian cheeseburger version, see the end of the recipe for instructions)
Cheddar Cheese – 70 gms
Breadcrumbs – 150 gms
Worcestershire Sauce – 2 tblsp
Parsley – handful, finely chopped
Egg – 1, beaten
Salt as per taste
Black Pepper Powder as per taste
Olive Oil – 1 tsp (optional)
To Serve:
Burger Buns – halved, toasted
Tomatoes – 1, sliced
Onion – 1, sliced into rings
Lettuce – handful, torn
Tomato Ketchup as required
Mayonnaise
Method:
1. In a large bowl, mix the minced beef with breadcrumbs, cheese, worcestershire sauce, eggs and parsley.
2. Add pepper powder and salt to taste.
3. Mix well until evenly combined.
4. Make medium sized balls and flatten them to burger patties.
5. Keep them in the fridge until required.
6. Heat olive oil in a grill pan over medium flame.
7. Add the burger patties and cook for 5 to 8 minutes on each side, until cooked through.
8. Toast the burger buns and place them on a flat surface.
9. Spread some mayonnaise and tomato sauce.
10. Place some lettuce and one tomato slice.
11. Place one burger patty on top of the tomato.
12. Top up with onion rings and sprinkle a bit of pepper powder.
13. Cover with the other half and insert a toothpick in the centre to hold them all together, if desired.
14. Serve with accompaniments as desired.
Tip: For a vegetarian version replace beef with mashed potatoes, boiled green peas, cooked mushrooms, boiled sweet corn kernels and onions. Cook them in a pan with some red chilli powder, lemon juice, garam masala powder and salt. Then follow the step #3 from above.
Alternatively, check this Vegetable Burger recipe