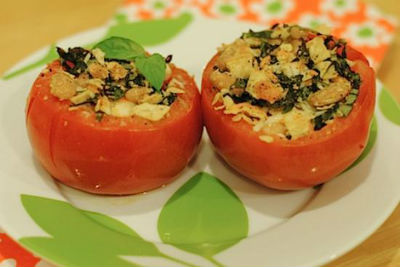 Ingredients:
Tomatoes – 6, large
Rice – 1 cup, cooked
Peas – 1/2 cup, boiled
Cheese – 1/2 to 1 cup, grated
Butter – 4 tblsp
Bread Crumbs – little
Salt to taste
Sauce
Mince very fine:
Onion – 1, large
Capsicum – 1, small
Little Parsley or Dill
For Seasoning:
Pepper Powder – 1 tsp
White Mustard Powder – 1 tsp
Method:
1. Cut out the tops and scoop out as much pulp as possible.
2. Smear the insides with some salt, set aside.
3. Keep aside pulp for sauce.
4. Melt 2 tblsp butter, add onion, fry till transparent.
5. Add capsicum, fry for a while adding herbs.
6. Cover and cook capsicum till soft.
7. Add rice, peas, seasonings, mix thoroughly.
8. Add half of the cheese, herbs, mix once again.
9. Just before filing, invert and shake tomatoes to remove all juice.
10. Fill with rice-peas mixture.
11. Press a few breadcrumbs on top of the filling, put a little melted butter on top of crumbs.
12. Brush tomatoes on the outside with some melted butter and set it in a greased oven-proof dish.
13. Pour the sauce over, sprinkle cheese.
14. Bake the tomatoes at 350F for 20-30 minutes or till tomatoes get soft.
To make sauce:
15. In 1 tblsp oil, fry 1 minced onion till pink in colour.
16. Add tomato pulp along with 1/2 tsp chilli powder, 1 tsp sugar, pinch of pepper powder and some salt.
17. Mix 2 tsp flour with 1/4 cup water, add to tomatoes and simmer until sauce-like consistency.