This is a traditional Sindhi style Paratha stuffed with Moong Dal filling. Serve with a choice of side dish.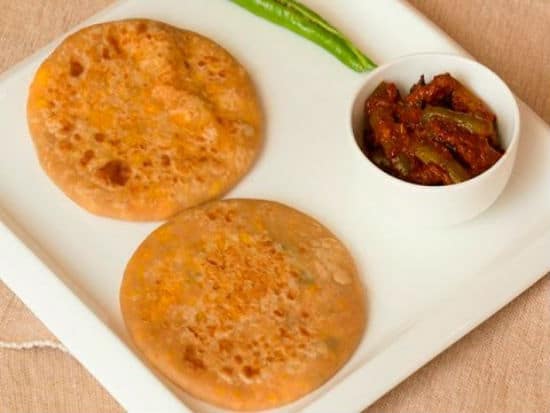 Ingredients:
Whole Wheat Flour – 1 cup
Split Moong Dal – 100 gms
Turmeric Powder – 1/4 tsp
Green Chillies – 2, finely chopped
Coriander Leaves – 1 tblsp, chopped
Dried Mango Powder – 1/2 tsp
Red Chilli Powder – as required
Oil – for frying
Butter – to smear
Salt to taste
Method:
1. Take the flour in a vessel.
2. Sprinkle water and knead to a hard dough.
3. Knead well and set aside.
4. Take a kadai, and add the washed dal along with turmeric powder and salt.
5. Cook the dal until it turns soft by adding little water.
6. When the dal is cooked, add the other ingredients, except oil and ghee.
7. Mix well and switch off the flame when completely cooked.Allow it to cool down.
8. Divide the dough into medium sized balls.
9. Flatten and roll out to a thick, round shape.
10. Add 1 tblsp of the dal filling and spread it evenly on one side.
11. Cover it with another uncooked roll and carefully seal the edges using little water if required.
12. Sprinkle some flour on top and roll out into a large roti.
13. Repeat the same for the remaining dough.
14. Heat a tawa, and cook these rotis one by one by adding oil.
15. Remove and brush the top woth melted ghee or butter.
16. Serve hot.