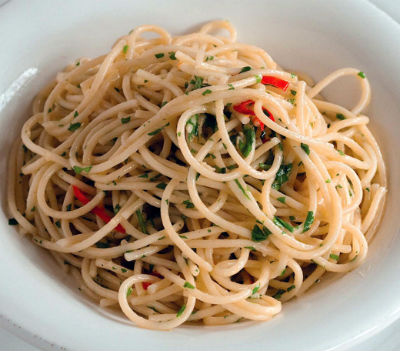 Ingredients:
Spaghetti – 200 gms
Olive Oil – 125 ml
Garlic – 1 clove, finely sliced
Parsley – 1/4 cup, coarsely chopped
Black Pepper Powder as per taste
Salt as per taste
Red Chilli – 1, small, finely chopped
Parmesan Cheese – grated, to garnish
Method:
1. Cook the pasta in salted boiling water.
2. Heat 100 ml of the olive oil in a large frying pan.
3. Add the garlic and red chilli.
4. Fry until garlic turns light brown.
5. Add 1/4 cup of hot pasta water and remove the pan from flame.
6. Drain the pasta and keep aside.
7. Heat a pan over high flame.
8. Add the drained pasta, chopped parsley and 2 to 3 tblsp of olive oil.
9. Toss well to mix. Add the reserved pasta water along with garlic and chilli.
10. Sprinkle some salt and pepper when the pasta is cooked and mixed well with the oil and pasta water.
11. Stir once or twice.
12. Garnish with grated cheese.
13. Serve.
image credit: phaidon.com