A delicious and simple to make North Indian dessert for any occasion.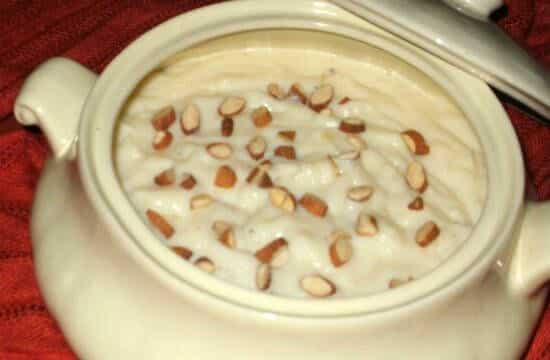 Ingredients:
Milk – 500 ml
Rice – 1 tblsp, soaked in water for 1 to 1 1/2 hours
Sugar – 2 tblsp (adjust as per taste)
Cardamom Powder – 1/2 tsp
Almonds – 2 tblsp + extra to garnish
Rose Water – 1/2 tsp
Method:
1. Soak the almonds in hot water and peel the skin.
2. Then slice them finely.
3. Drain the rice and grind to a smooth paste.
4. Heat milk in a pan and bring to a boil.
5. Reduce flame and stir continously.
6. Simmer for 30 minutes or until the milk has thickened and reduced to 3/4th.
7. Add the rice paste, sugar and stir well.
8. Simmer, stirring all the time, until thickened.
9. Remove from flame and add the cardamom powder, almonds and rose water.
10. Stir to mix well and keep it in the fridge.
11. Just before serving, garnish with some sliced almonds.