A very popular subcontinent dish often served as a starter or with roti/naan/paratha. Chicken pieces are marinated in a yogurt gravy and baked in an oven. This is a dry preparation.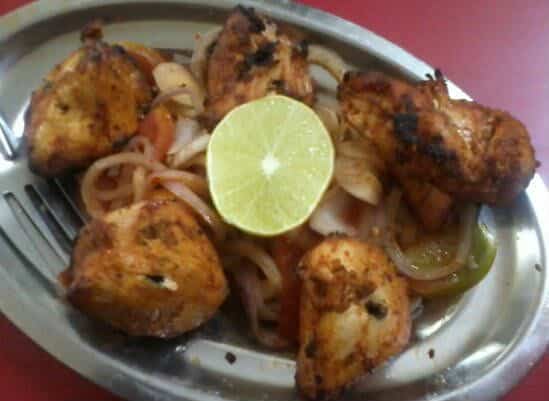 Ingredients:
Chicken – 400 gms, boneless, skinless, chopped
Wooden Skewers – few, soaked in water
For the marinade:
Plain Yogurt – 1/4 cup
Red Chilli Powder – 1/2 tsp + 1/2 tsp
Salt as per taste
Ginger Garlic Paste – 2 tblsp
Lemon Juice – 3 tsp + 2 tsp
Garam Masala Powder – 1/4 tsp
Mustard Oil – 1 tblsp
Butter – 1 tblsp
Chaat Masala Powder – 1/4 tsp
Onion – 1, sliced into rings
Lemon Wedges
Method:
1. Mix 1/2 tsp red chilli powder, 2 tsp lemon juice and salt in a bowl.
2. Add the chicken pieces and mix well.
3. Cover and keep this in the fridge for 20 minutes.
4. Add the red chilli powder, ginger garlic paste, lemon juice, mustard oil, garam masala powder and salt to a bowl.
5. Add the yogurt and mix well until smooth.
6. Add the marinated chicken pieces and mix until evenly coated.
7. Cover and keep this in the fridge for 2 to 4 hours.
8. Skewer the chicken pieces and place them on a baking tray lined with parchment paper.
9. Bake in a preheated oven (200C/400F) for 10 minutes or until cooked.
10. Remove and brush with butter.
11. Bake again for another minute or two.
12. Transfer to a serving dish.
13. Sprinkle chaat masala powder.
14. Serve with lemon wedges and onion rings.
Subscribe to our Newsletter
Receive the latest recipes & kitchen tips !