A simple and tasty pickle with tomatoes. Best served with curd rice. Also goes well with rotis, naan or dosai.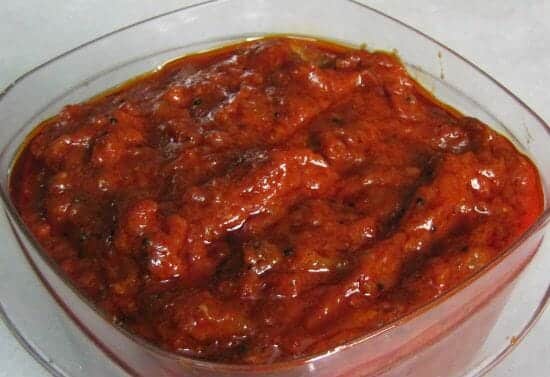 Ingredients:
Tomatoes – 500 gms, firm, washed, chopped
Sea Salt – 1 tblsp, powdered
Red Chilli Powder – 2 tblsp
Tamarind Extract – 3/4 cup
Gingelly Oil – 150 ml
Mustard Powder – 1 tsp
Vendhaya Powder – 1 tsp
Asafoetida Powder – 1 tsp
Method:
1. Heat oil in a pan.
2. Add asafoetida powder and stir for 10 seconds.
3. Add the chopped tomatoes and saute well.
4. Add tamarind extract, salt, red chilli powder and cook till water has almost evaporated and tomatoes have changed colour.
5. When the oil starts to float, add mustard powder, vendhaya powder and mix well.
6. Transfer to a clean jar and cover with a lid.
7. Use as required.