Meat Darbari is a regal dish that brings together the richness of mutton with a blend of aromatic spices, creating a symphony of flavours fit for royalty.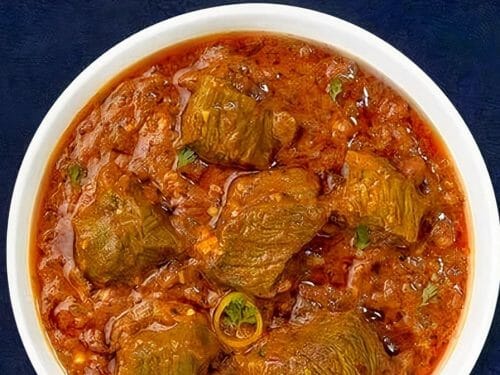 Step into the royal kitchens with Meat Darbari, a dish that carries the essence of regal Indian cuisine. This recipe elevates tender mutton to a new level of richness and flavour.
The magic begins with a spice paste made from sesame seeds, mustard seeds, cinnamon, dried red chillies, cloves, and more. This paste is rubbed over the mutton pieces, creating a deep and complex flavour profile. The mutton is left to marinate overnight, allowing the spices to infuse every meat fibre.
In a hot pan, the marinated mutton is browned to perfection, releasing an irresistible aroma that will entice your senses. Onions, ginger, garlic, and a touch of salt are added to enhance the savoury goodness.
To transform this dish into a royal masterpiece, a mixture of wine vinegar, warm water, and tomato puree is poured over the meat. The slow cooking process ensures that the mutton becomes incredibly tender, absorbing the flavours of the spices and tomatoes.
The final touch is a sprinkle of green chillies and fresh coriander leaves, adding a burst of colour and a hint of heat. Meat Darbari is traditionally served with onion roundels and warm chapatis, creating a meal fit for a king or queen.
If you're intrigued by the flavours of Meat Darbari, you might also enjoy exploring other royal Indian dishes like Biryani, Rogan Josh, or Shahi Korma for a majestic culinary journey.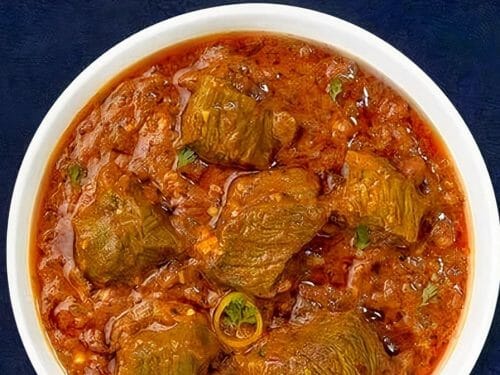 Meat Darbari
Meat Darbari is a regal dish that brings together the richness of mutton with a blend of aromatic spices, creating a symphony of flavours fit for royalty.
Ingredients
1

kg

Mutton

1

big Onion (chopped)

1

inch

piece of Ginger (chopped)

2

tbsp

Coriander leaves (chopped)

2

Green Chillies (sliced)

3

tbsp

Clarified Butter (ghee)

3 to 4

Garlic cloves (coarsely chopped)

3

tbsp

Wine Vinegar

1

cup

Warm Water

1

tbsp

Tomato Puree
For the Paste:
1

tbsp

Sesame Seeds

1

tbsp

Mustard Seeds

1

Bay Leaf

2

tbsp

Poppy Seeds

2

inch

piece of Cinnamon

4

Dried Red Chillies

4

Cloves

10

Black Peppercorns

2

Brown Cardamom
Instructions
Begin by washing and cutting the mutton into pieces.

Grind all the spices listed under "For the Paste" to form a smooth paste. Rub this paste generously over the mutton pieces and marinate them overnight for maximum flavour.

Heat the clarified butter (ghee) in a pan and sauté the chopped onions until they turn golden brown.

Add ginger, garlic, and a pinch of salt to the pan. Continue frying until the mixture is aromatic.

Add the marinated mutton to the pan and cook until the meat browns evenly.

Pour in the warm water and bring it to a boil. Cover the pan and let the meat cook on low heat until it becomes tender, stirring occasionally.

Add the tomato puree, sliced green chillies, and chopped coriander leaves. Simmer for an additional 3 to 4 minutes.

Serve the tantalizing Meat Darbari hot, garnished with onion roundels, and accompanied by freshly made chapatis.
Frequently Asked Questions (FAQ):
Can I substitute mutton with another meat in Meat Darbari?
A1: While mutton is the traditional choice, you can experiment with other meats like chicken or beef. Adjust the cooking time to suit the meat you choose.
What can I serve as side dishes with Meat Darbari?
Meat Darbari pairs wonderfully with naan, rice, or pulao. For a complete meal, consider serving it with classic Indian sides like Raita, Pickles, or a refreshing cucumber salad.
Is Meat Darbari a spicy dish?
The spice level can be adjusted to your preference by varying the quantity of green chillies. Depending on your taste buds, you can make it mild or hot.
Note: image is for illustration purposes only and not that of the actual recipe.